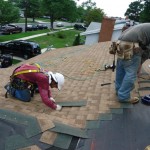 Landscaping
Fall is not all about raking the leaves. While you're in your yard, you need to prepare the shrubs, flowers, and grass for winter.
The first tip is to pick up all the leaves. If you let them sit through the winter, they'll decompose and get into the root system of your grass.
The end result will be grass that doesn't grow.
If you want to seed the yard, it's alright to over-seed but make sure it's all down by October 15th.
Gutters
You need to make sure the fall leaves and spring seeds are removed from your gutter.
All this material clogs them, and doesn't allow water to flow.
While it's still warm, make sure your gutters are working properly.
"They need to be inspecting their gutter system. Most older gutters have spike and ferrets which are those big long nails. A lot of time the gutters are loose they pulled away from the house the spikes have come out.
http://www.lopezventurainc.com/wp/wp-content/uploads/2011/08/roofing.jpg
520
736
acrwebline
http://www.lopezventurainc.com/wp/wp-content/uploads/2011/08/logo.png
acrwebline
2016-04-05 14:00:09
2018-05-04 15:24:25
Our Fall 2018 tips to prep your home for winter